Communist Takeover of America in Progress – LTC Robert Maginnis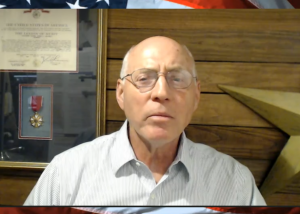 By Greg Hunter's USAWatchdog.com 
Retired Lieutenant Colonel Robert Maginnis is a military expert and author of a brand new book explaining how Marxists and globalists are trying to take down America and turn the country to a godless communist state.  Maginnis explains, "In my book, I go into the details why Marxism is really a proxy of Satan.  All you have to do is read his (Karl Marx) writings or ask his own family.  I have a chapter about Marx's father saying Marx was governed by a demon.  His son called him 'my dear devil'. . . . This insidious ideology came to this country after World War l, and it was brought here by the progressives."
The tip of the spear for the communist takeover of America is China.  Maginnis says, "We, by their own definition, are at war with China.  Even the Washington Post, interestingly, just a day ago, editorialized about how serious the threat comes from President Xi.  He stood there in Tiananmen Square a couple of days ago and declared to the world we are ready for you.  We are the world dominate power.  If you threaten us we, are going to put your blood against the steel wall of the 1.4 billion Chinese people.  He didn't hold back.  He made it very clear that we are indeed at war. . . . Keep in mind, when communists take over, they have a very serious agenda.  They do away, first of all, with religion, and any civil liberties are tanked as soon as they come into power."
Who are the willing treasonous helpers to the Chinese?  Look no further than the Democrat Party along with some Republicans, too.  Maginnis says, "They have pulled out all the stops with going after us with their control over media, to include the New York Times, Washington Post and others.  There is their transmission media, television, radio and the Internet.  The evidence is very, very compelling, and, of course, the Democrat Party has blood all over their hands when it comes to pushing this insidious agenda.  This is now far worse than any progressive would have wanted.  The Chinese are very persuasive. . . . They control Hollywood.  The buy off the Washington Post through ads, the New York Times and even the China Daily goes to every member of Congress for free, and it's pushing propaganda.  The propaganda is up to your eyeballs thanks to the Chinese. . . .They buy off politicians, and we see this left and right. . . . The Chinese set a 'honey trap' for Congressman Eric Swalwell. . . . The list goes on."
In closing, Maginnis says, "This is very dangerous if we don't turn this around and turn it around quickly. . . . We have to get involved.  I am writing members of Congress daily . . . and I am speaking out as much as I can.  I am contributing to legal funds, and I am contributing to candidates that will support what I believe to be right.  These are things we have to do and not sit on our duffs and watch this country be destroyed, and that is what they are doing."
Join Greg Hunter of USAWatchdog.com as he goes One-on-One with Lieutenant Colonel Robert Maginnis (Ret.), military expert and author of the new book "Give Me Liberty, Not Marxism."
(To Donate to USAWatchdog.com Click Here)
After the Interview: 
If you want a copy of the new book "Give Me Liberty, Not Marxism" by LTC Robert Maginnis, you can buy it from the Christian media organization called SkywatchTV.com.  You can also order by phone at 844-750-4985  (24 hours a day in the USA).
The book is also available at places like Amazon and Target as well.
You can follow Maginnis on his Facebook page by clicking here.
Other top selling books by Maginnis are: 
Collision Course: The Fight to Reclaim Our Moral Compass Before It Is Too Late
The Deeper State: Inside the War on Trump by Corrupt Elites, Secret Societies, and the Builders of an Imminent Final Empire.