Dem Desperate Disaster, More Ukraine Propaganda, Unstoppable Inflation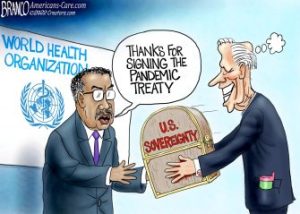 By Greg Hunter's USAWatchdog.com (WNW 530 5.20.22)   
The DHS Disinformation Governance Board was put on pause this week as yet another disastrous desperate attempt to control the narrative falls apart for the Democrats in the Biden/Obama Administration.  A new person at the board has been appointed, and that is Michael Chertoff.  He is the former DHS Secretary in the Bush 43 Administration.  The former Disinformation Board leader Nina Jankowicz resigned in disgrace after, wait for it — too much disinformation.  Controlling alt media under the label of "disinformation" is a brazen unconstitutional and desperate attempt to try to take control of free speech in America.  This is another sign that the Democrats do not feel they can win the upcoming election in November of 2022 without this sort of oppression.
According to the propaganda that is passed off as "news" at the New York Times, the Ukraine Army simply "ended its combat Mission in Mariupol" that has been under Russian Army siege for weeks.  This fantasy portrayal of what went down is yet another piece of fake news propaganda by the NYT about the war in Ukraine.  In reality, Ukraine forces were forced to surrender or be cut to ribbons by the Russian Army.  More than 1,700 have surrendered in the last three days.  It is another stunning defeat of the Ukrainian army.  This is the country the U.S. Senate just approved another $40 billion to keep this farce of a war going instead of stopping it.  The mainstream media sources like the New York Times are gaslighting the public into thinking this is going well for Ukraine when it is a total disaster.  Talk about throwing good money after bad.
Looks like inflation is here to stay with record high fuel prices clocking in every week and skyrocketing food prices.  This has all happened because of Biden/Obama Administration policies on everything from energy to war.  What is the answer to this spiking inflation?  It's not a change in policies that got us here in little more than a year of the Biden/Obama Administration.  It's price controls under the new name of "gouging" legislation.  Big time Democrat and former Treasury Secretary Larry Summers calls this plan "dangerous nonsense" that will make the inflation problem far worse.
Join Greg Hunter of USAWatchdog.com as he talks about these stories and more in the Weekly News Wrap-Up for 5.20.22.
(To Donate to USAWatchdog.com Click Here)
After the Wrap-Up: 
Dr. Betsy Eads will be the guest for the Saturday Night Post.  Dr. Eads will discuss new information about how AIDS is increasing for the people who got the CV19 vax and boosters.