Fed Will Not Fight Coming Inflation – Craig Hemke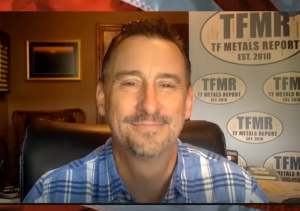 By Greg Hunter's USAWatchdog.com 
Financial writer and precious metals expert Craig Hemke predicted in July that silver was about to start a dramatic move higher.  He was right.  After Tuesday's smash-down of the metal, Hemke says precious metals investors have nothing to worry about.  Hemke explains, "The important thing to understand is the fundamental stuff that has driven gold and silver higher, especially in the last couple of weeks, none of that has changed. . . . You get these speculative excesses.   They traded on the COMEX futures exchange (Tuesday 8/11/20) 1.5 billion ounces of pretend fake digital silver.  In a normal non-Covid world, the entire globe mines about 850 million ounces of silver.  So, in one day's trading of the phony baloney plastic silver, they traded two times global mine supply. . . . The picture has not changed fundamentally.  They can trade two times global mine supply and you get these speculative excesses that get wrung out, but that just sets you up for the next move higher."
Hemke also points out that the Fed is signaling new policy changes to prop up the failing economy.  In simple terms, the Fed is going to allow much more inflation than 2%, and on top of that, the Fed is not going to raise interest rates to fight it.  Hemke says, "We are going to have a very bumpy economic growth ride with what has already taken place with Covid and what is going to come.  The Fed has already promised it is going to maintain 0% interest rates on the short end (of the curve) until 2022. . . . The Fed is going to let inflation go past 2% to 3% or 4%.  They are probably going to make this change at the September Fed meeting. . . . They are going to let inflation overshoot 2%. . . . The reason why they do that is you can pay off all this accumulated debt with the less valuable money of tomorrow.  This is how it has always worked. . . .These two policy changes go hand in hand.  They are going to let inflation run, and they are locking in nominal rates and institutionalizing steeper and steeper negative real rates."
Hemke says we have not seen this sort of "perfect storm" in the precious metals market since the 1970's when gold increased nine fold until it topped out in 1980 at nearly $900 per ounce.  If that happens again, that would put the gold price at nearly $18,000 per ounce.  Hemke says, "This whole system is hyper-leveraged by the central banks.  So, we have no idea how many owners there are for each ounce of gold.  The amount of gold with clear title, we have no idea.  What happens when everybody shows up for their gold?  If I don't know how many ounces of gold there are, how am I supposed to know what the right price is?"
What Hemke can predicted with certainty is "more inflation" and that the Fed will not raise rates to fight inflation until at least after 2022.
I asked Hemke for his year-end predictions for the price of gold, and he said "$2,300 to $2,400 per ounce."
For silver, Hemke predicts, "Silver will be $34 to $36 per ounce."  What the premiums will be on top of that is another story.
Join Greg Hunter of USAWatchdog.com as he goes One-on-One with Craig Hemke, founder of TFMetalsReport.com.
(To Donate to USAWatchdog.com Click Here)
After the Interview:
There is some free information on TFMetalsReport.com. If you want to subscribe, use the promo code "Hunter" and get your first month half off.  (This offer expires on 8/21/2020.)
This segment is sponsored by Discount Gold and Silver Trading. Ask for Melody Cedarstrom, the owner, at 1-800-375-4188.