Is America Going Back to a Gold Standard Someday?
By Greg Hunter's USAWatchdog.com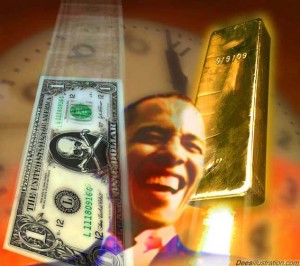 America went off the gold standard in 1971 when Richard Nixon closed the "gold window." That meant the U.S. didn't have to pay foreigners with gold, only dollars.  President Nixon created the first world reserve currency that was officially backed by nothing.  The U.S. has gotten to print money at will until this very day, but nothing lasts forever.   Recently, Steve Forbes (President and Chief Executive Officer of Forbes and Editor-in-Chief of Forbes magazine) predicted that a return to a gold standard is likely "in the next five years." A recent Humanevents.com story said, "Such a move would help to stabilize the value of the dollar, restore confidence among foreign investors in U.S. government bonds, and discourage reckless federal spending, the media mogul and former presidential candidate said." (Click here for the complete Humanevents.com story.)
Forbes is not some fringe player.  He is wealthy, well connected and knows his way around all types of media.  His thoughts are probably reflecting what other people in his sphere (meaning other wealthy and connected people) are contemplating.  And speaking of Forbes, in an article in the online publication of the same name, Forbes.com said, ". . . unless an inflationary boom is fed with more and more inflationary credit a deflationary bust we will quickly get.  And with the first signs of an ensuing bust, a massive QE III effort courtesy of deflation hawk extraordinaire Ben Bernanke is sure to follow.  In other words, if the private banks don't inflate, a deflationary scare first than another Federal Reserve orchestrated inflationary cycle.  In the end, QE III one way or another." (Click here for the complete Forbes.com story.) That's just what the world wants, more money printing from the U.S. to pay its bills.  Foreigners will be increasingly shunning the dollar as the money creation continues.
Even a recently launched fund by PIMCO (EqS Pathfinder) is very fond of the yellow metal.  The largest holding in the $1.2 billion fund is gold.  By the way, PIMCO is no longer holding Treasury bonds.  The company is now betting against the world's most liquid market and is shorting Treasuries.  That is flashing a great big warning sign for the buck.  Eventually, the U.S. will probably be forced to back the dollar to stop its inflationary fall.  A gold standard would stabilize the dollar, but the price of gold would have to be much higher than it is today.
Jim Rickards, Senior Managing Director for Market Intelligence at Omnis, Inc., agrees with Mr. Forbes that the dollar will be backed by gold within five years.  Rickards is what I call the "insider's insider."   Rickards predicts gold would need to be "$6,000 to $7,000 an ounce" to back the buck with the yellow metal, but he adds, "The devil is in the details." In a recent interview at King World News, Mr. Rickards said there were many factors to consider when implementing a gold standard, "No matter how you do it, the price of gold is going up as you bring money back in line with gold." Rickards said that depending on how the buck is backed by gold, the price per ounce could range between "$3,000" to "$30,000" or more per ounce.  (Click here to listen to the entire KWN interview with Jim Rickards.)
Finally, Jim Grant, Founder of Grant's Interest Rate Observer, is also fond of gold.  Grant's well-circulated publication warned of an impending financial catastrophe long before the 2008 meltdown.  In a recent King World News interview, Grant was asked, "How the United States will resolve its debt and deficit problems."  Grant remarked, "Well, in my mind it will resolve them necessarily by undertaking the step of restoring the dollar to convertibility into gold." (Click here for more from KWN.)
"Convertibility into gold" means a gold standard because, after all, gold is money and it has a 5,000 year history as such.