Minaj Vax Storm, Trump is Coming Back, Fed Taper Bluff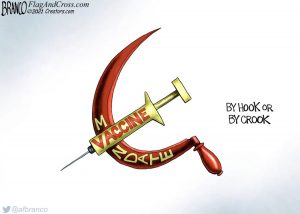 By Greg Hunter's USAWatchdog.com (WNW 496 9.24.21)
Superstar rap singer Nicki Minaj has escaped the Democrat thought plantation.  Minaj posted some true negative information about side effects from the CV19 vaccines to her millions of fans on social media last week.  The fire storm from globalist Marxist Democrats burned red hot.  Minaj alleged her family was threatened, and the White House wanted to call her to give her proper information (talking points) about vax side effects.  Minaj declined and was not happy.  The mainstream media (MSM) also joined in on the reeducation of Minaj, which exposes the MSM, once again, as pure propaganda and not journalism.  Minaj is not backing down to what she calls "bullies"! There is lots of new scientific information out this week that shows the dangers of the so-called vaccines, but it's all "misinformation" to the propaganda machine that wants you jabbed no matter what.
Adam Schiff and his Democrat colleagues have introduced legislation to limit the powers and protections of the President of the United States of America.  What???  Isn't a Democrat going to be in the White House for the next 3 years?  What's going on?  Do Democrats think there is a chance that Trump will be reinstated?  I think they do.  After all, the Dems know full well they cheated to win the White House, Senate and House.  Of course, more and more cheating is exposed every week, and the results of the Arizona audit are coming out soon.  Meanwhile, states like Texas are announcing new forensic audits of the 2020 Election in the Lone Star State.
Looks like the federal government will not shut down as Speaker Pelosi has announced a Continuing Resolution that will keep the government running and paying its bills.  Another crisis has been averted, but the spending crisis and debt crisis is going on unabated.  Will the Fed finally taper all the easy money, or will another financial crisis force them to print bigger mountains of money to keep it all afloat?  I predict we are going to see by the end of this year.
Join Greg Hunter of USAWatchdog.com as he talks about these stories and more in the Weekly News Wrap-Up for 9.24.21.
(To Donate to USAWatchdog.com Click Here)
After the Wrap-Up:
Top trends researcher Gerald Celente, publisher of The Trends Journal, will be the guest for the Saturday Evening Post.  He correctly predicted vax wars, and now he sees trouble in the financial world.  Listen up!