Trump Guilty Until Proven Innocent, Mexico Tariffs, Crop Crisis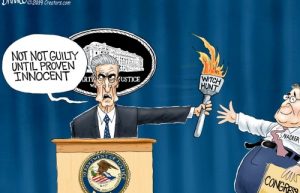 By Greg Hunter's USAWatchdog.com (WNW 386 5.31.19)
Like a supernova flaming out, Special Prosecutor Robert Mueller announced he's closing his office and stepping down. Before he did, he gave a short press conference to trash President Trump on the way out by not giving him the presumption of innocence. Mueller said he would not "exonerate" Trump, even though his own report did not find any chargeable crimes. Mueller did give the Russians he charged with crime the presumption of innocence. Slimey Mueller proved it was a partisan "witch hunt" all along, and gave the Democrats new reasons to try for an impeachment.
The President just hit Mexico with a brand new tariff because it is allowing massive amounts of illegal aliens to cross Mexico to get to the USA. The tariffs are scaring the markets, and stock futures are tanking.
On the crop front, more bad news. Corn and soybean planting is still way behind. Agriculture experts are warning of lower crop yields and higher prices.
Join Greg Hunter as he talks about these stories and more in the Weekly News Wrap-Up.
(To Donate to USAWatchdog.com Click Here)
After the Wrap-Up:
Catherine Austin Fitts, publisher of The Solari Report will be the guest for the Early Sunday Release.
For a free audio download of WNW 386 5.31.19 click here.