Dems Turning Marxist, Corporations Punish Trump Voters, Fed Sounds Huge Warning
On March 2, 2018
In Media
134 Comments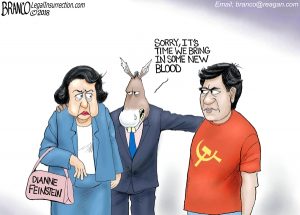 By Greg Hunter's USAWatchdog.com (WNW 324 3.2.18)
A liberal newspaper in San Francisco is calling one of the most notable Democrat in Congress the "most right wing candidate." Infowars.com says this just another sign that the Democrat Party continues a "rapid tilt toward Marxism." It appears Democrats have given up trying to improve the lives of ordinary American citizens. They don't offer a single idea to make things better for Americans. The Dems are in a full court press to bring in illegal immigrants and make them legal to gain votes for 2018.Now, some companies in America are siding with anti-Second Amendment forces to punish the NRA by cutting ties with them. The real meaning of this is they are trying to punish Trump voters who are sick of communism and the New World Order being pushed down their throats. It appears to be backfiring as companies who are punishing the NRA are seeing their support falling as much as 18% in a new poll.
The new Head of the Federal Reserve, Jerome Powell, sounded a warning in Congress this week by saying the "U.S. is not on a sustainable fiscal path." Everybody knows the markets cannot be propped up with easy money forever, but this sort of truth bomb coming out of the mouth of a new Fed Head may be too much truth for the sky high stock market to process. Legendary trader Paul Tudor Jones says, "The Fed is about to lose control," and "U.S. inflation is set to accelerate sharply."
Join Greg Hunter as he talks about these stories and more in the Weekly News Wrap-Up.
(To Donate to USAWatchdog.com Click Here)
After the Wrap-Up:
Gregory Mannarino of TradersChoice.net is the guest for the "Early Sunday Release."
Can the markets be propped up for much longer and how will central banks try to pull this off? Mannarino will give his take on these questions and more.